In collaboration with Professor Bryan K. Marcia, Ph.D., Iridology-research.com is currently offering Iridology Assessments to Naturopathic and Natural Health Clinics. Personal assessments are also now available.
Assessment results are normally completed within 1-24 hours with optional extended assessment report for patient or client. There are four types of iridological assessments available for Personal, Clinical and Academic Institutions. More information with sample reports are available for each type of assessment in PDF format:
| Iridological Assessment | Assessment Information | Recommended For.. | Sample Assessment Download in PDF | Assessment Fees | Assessment Applications |
| --- | --- | --- | --- | --- | --- |
| Iridology Analysis Professional - Main Assessment | Russian Medical Iridodiagnostic Report Based on E.S. Velhover. Requires Knowledge of Russian Medical Terminology. | Medical Clinics, Medical Doctors, Naturopathic Doctors. | | Available to Professional Health Clinics. Please Contact. | Clinic Application |
| Iridology Analysis Professional-Client | Customized Patient-Client Version of the Russian Medical Iridodiagnostic Report Based on E.S. Velhover. This Report is Comprehensible to Both Practitioner and Client. | Patient Friendly Assessment for Medical and Naturopathic Clinics. Useful for Patient Education. | | Available to Professional Health Clinics. Please Contact. | Clinic Application |
| Bexel Irina Pupil and Collarette Assessment | Pupil and Collarette Parameter Assessment with Iridodiagnosis results. | Medical Clinics, Medical Doctors, Naturopathic Doctors, Clinical Research. | | Available to Professional Health Clinics and Clinical Researchers. Please Contact. | Clinic Application |
| Iridology Analysis Classic | Iridology Assessment based on European & American Iridology. Includes Pupillary Data from Bexel Assessment. | Nutritionists, Homeopaths, Healing Art Professionals, Health Food Stores, Personal. | | 75.00 USD | Personal Application |
Frequently Asked Questions
Assessment FAQs
What is included in the Bexel Lab Results?
Biometric data analysis to determine several parameters of the pupil including Miosis, Mydriasis, Anisocoria, Deformation of Pupils (drawing in-out, oval-elliptic forms, local flatness, sector deformations, decentrations and Multiformities).All assessments include the Bexel lab report. It is recommended to re-test the Bexel lab report at least once a year to review changes in the pupillary and collarette parameters.1:
Clinical
Why is the Bexel Lab Data Important?
Iridology assessment is based on actual scientific clinical research and development
Our assessments are based upon the Bexel Irina system which successfully achieved FDA approved status as medical device class 3 in Korea, following the highly successful Korean government certified clinical studies held at AJU University. You can review the
clinical study here
.2:
Accuracy
Precise Bio-Metric Examination
Our Iridology Analysis assessments offers precise examination of the pupil, collarette and iris sectors using an exclusive bio metric algorithm that has the ability to scientifically measure the human eye with accurate measurements and calculations.
Review the Bexel Irina Pupil and Collarette Sample Report: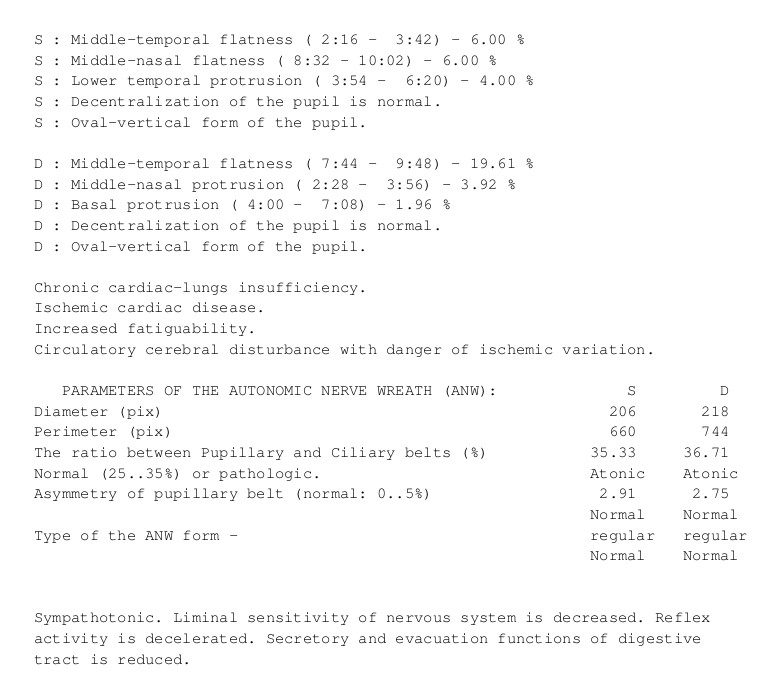 Where do the assessment health advice recommendations come from?
The assessment recommendations include nutrition, herbal and homeopathic. Every recommendation is based on actual clinical studies with references that can be found in the Integrative Iridology Compendium. All clinics receive access to the Integrative Iridology Compendium.
I do not have an iriscope. Do you have any recommendations?
We recommend the
Dino-Lite Iriscope
.This iriscope takes very suitable eye images for iridological assessments.The Dino-lite iriscope is Windows and MAC compatible, American engineered, The iriscope is shipped from the USA with two year warranty and unsurpassed support.Clinics who wish to purchase the Dino-Lite Iriscope for iridological assessment can receive 20% discount and free shipping to the USA and Canada. Please
contact us
for this discount information.Clients from Asia or Europe, please
contact us
for more information regarding local European or Asian suppliers of the Dino-lite iriscope.
Is there any clinical studies available for your Iridology Analysis Assessment?
The Iridology Analysis Professional software was developed by Russian scientists and based upon several clinical studies that were accomplished in several hospitals throughout Russia. You can download and review excerpts of various Russian published studies in
PDF
.You can also review various clinical studies in iridology from the
iridology research updates
page.
How do I pay for my assessment?
For individuals, please first upload your eye images using the
upload image formpost
. If your images are acceptable for iridology assessment, we will send you an invoice with copy of first page of your analysis results. After payment is received, we will send your fully completed analysis.For clinics, we send monthly invoice on the first of each month. Invoice payment is due within 15 days.
Is there any discount for a second analysis?
Yes, your original assessment will include a code for one free re-assessment to determine if there are any changes from the original assessment results.Please note that the re-assessment only includes the Bexel Pupil and Collarette parameters.  Applicable changes can only be measured in the pupil and collarette. The iris itself is genotypic and does not change in short life term intervals.The second assessment results can be very beneficial in determining if any positive health improvements have occurred since treatment.Signs of improvement in second assessment are determined through the mathematical parameter changes in the pupil and collarette.The re-assessment is recommended after a minimum of three to six month of treatment.Please note that the re-assessment code is valid for one year and must be the same eye images/case.
Do you offer any discounts for clinics or independent practitioners?
Iridology Assessment service offers a discounted iridology assessment service for integrative medical-health clinics and independent health practitioners.Please fill out the clinic-practitioner application form below and we will contact you with more information and discount pricing offers.